Founders Society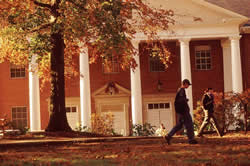 The Founders Society is the special group of alumni and friends who support Delaware Valley College through a bequest in their will, a charitable annuity or trust, an insurance policy or some other strategy. These planned gifts are also wise gifts, because the donor and the college mutually benefit.
A planned gift always benefits the donor as well as the receiver, both by the realization of doing something good and doing something wisely. Therefore, the benefits of "Creating a Legacy" are financial as well as personal.
Several alumni or friends might have already named Delaware Valley College in their will or as the beneficiary of some other planned gift. If so, we warmly invite you to become a member of the Founders Society of Delaware Valley College. We also want to acknowledge you and to encourage others to follow your lead.
Thank you for joining us and so many others in the perennial founding of Delaware Valley College. Our students are the ultimate beneficiaries of your wisely planned gifts, and we welcome you as founders of Delaware Valley College.
Membership in the Founders Society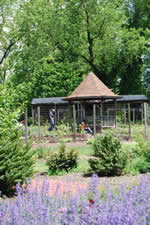 The founding of a venerable institution such as Delaware Valley College is much more an ongoing process than a one-time event. After the mission and bylaws were written, the block foundation laid, the cornerstone set in place and the ribbon cutting completed, the equally challenging task of prospering the college took center stage. So, in this sense, the founding of a college is a continuing process. The members of the Founders Society of Delaware Valley College recognize this truth, and they choose to be part of this perennial founding.
At the same time, members of the Founders Society fully understand the phrase "creating a legacy." When donors take the time to plan their gift, the outcomes are often greater than they imagined and, hence, the expression "creating a legacy." Through a planned gift, donors almost always are able to achieve more at the college than they expected and, in many cases, the gift costs the donor less because of the tax benefits and increased income the donor can receive from the gift.
Donors who notify us that they have chosen to "create a legacy" by preparing a planned gift for Delaware Valley College thereby become members of the Founders Society.
The list of current members follows, and new members are added as soon as we are notified about their planned gift. Names of members are also published in the college's Annual Report. Please consider joining this special group of alumni and friends of Delaware Valley College. The benefits to you and the college are attractive and multiple.
Alumni and friends who wish to discuss preparing a planned gift may contact Maryann Fox, Director of Major Gifts at 215-489-4528 or maryann.fox@delval.edu.
Founders Society Members
Anonymous (3)
Russell C. Albright '67
Robert and Marren Berthold
Doris Blau
John Mark Bloomfield '79
Marvin '62 and Arlene Brand
Martin '54 and Rebecca Brooks
Joseph '57 & Betty Lou Catino
Harry '55 & Christine Conover
Clifford H. Cortelyou '68
Leonard '51 & Elizabeth Crooke
Raymond, Jr. '64 & Bonnie Cupples
Daniel '74 and Joanne '86 DaCunha
Dennis N. '72 and Carolyn A. DeSimone
James '61 & Elizabeth Diamond
Glenn R. Fahnestock '76
Joshua '52 & Miriam Feldstein
Gery '70 and Carol Fisher
Edward '53 and Martha Fleming
Richard '58 and Shannon Haas
Howard S. Hauser '72
Thomas R. Hawk '65
Patricia Hilton '76
Ivar '53 and Mary Holmberg
Bret A. Hoover '90
John '66 and Nancy Howell
Thomas J. Johnson '70
Kevin '68 and Jacquelyn Keim
Jean Work Kenneally
Joseph '84 and Jeanette Kentos
Theodore Krause '30
Frank '52 and Nancy LaRosa
Oskar Larsson '52
Gerard '52 and Rita Marini
Paul P. McFarland '62
Wayne R. Moreton
Robert M. Morgan '70
Harold '63 and Nancy Nightwine
Dennis M. O'Brien '73
Nancy J. Ondra '89
Edward '60 and Marie Plotka
David L. Purdy
Peter G. Rolland '52
Mark W. Saunders '74
*John W. Segraves
*Norman '52 and Gail Shayer
Richard '68 and Nancy Smith
Lora Smith-Lago '90 & Family
Kurt '55 and Martha Sonneborn
Ronald '56 and Jean Stammel
Joseph R. Stryjewski '73
Alex '06 and Susan Szarka
Nikolas A. Urban '02
Neil '65 and Marie Vincent
Susan B. Ward '80
Harry B. '56 and Betty Weber
*H. T. '76 Wineman

*Deceased

Fall 2013